aren't we all on the same quest to be understood?
Some personal news!
I have an essay coming out tomorrow!!! And more than an essay, I have an audio recording of me reading an abridged version AND a complimentary youtube video documenting me making a collage inspired by the essay.
I would love for you all to read the essay in full, watch the youtube, and listen to the Spotify audio for the opening with me talking about drinking margs.
So, I will send all this info in a new e-mail tomorrow? Sound good to you?
Blink once for yes. Blink twice for no.
Cool.
---
Y'all. I think I'm off astrology.
Ok, ok. I don't know if I'll ever be off, I'm just not as invested.
For all of 2018 and most of 2019, I looked at CoStar and The Pattern and Chani Nicholas and AstroTwins and The Hood Witch religiously. It felt like a sermon about myself that I tuned into more fervently than new episodes of The Good Place. But lately I've been having a hard time keeping up with it all and I'm starting to feel tired of something else telling me who I am and what's going to happen in my life. I've been disappointed a number of times when I go in expecting a certain energy and encountering a reality that ain't it.
I also inundated myself with information about my Enneagram number (where my 6s at?) until I couldn't hold any more. I read all 26 pages of the results I paid $12 for. It made sense. Loyal, defensive, anxious, disciplined, reactive, grounded. All checks out. Also, it's not hard to form a narrative around these themes. Like astrology, it resonates but also reframes.
Maybe it's simply the inundation of information that's wearing me out. I'm starting to notice a pattern in myself in this regard (that wasn't pointed out by The Pattern). I sometimes take a dip in the ocean when all I really want is a bath. I can't seem to help consuming all the content (words specifically) like a fucking Kirby inhaling anything it sees. The problem is, like my pokèmon counterpart, I can't always process what I take in and end up spitting it all back out in more words. You know. Copy. Paste.
So here's me doing a copy/paste of astrology, the Enneagram, and what it means about how we want to be seen and heard. ctrl v. ctrl c. shift 6. 3.
(Side note: still love a good tarot reading, Faye and Thea. Please fuck me straight up with a celtic cross spread.)
---
Good Reads
Christine Smallwood tackles the obsession with astrology with an openness and curiosity that the situation deserves. I've read so many takes saying astrology just taking the place of religion for millennials and frankly I think that is surface level. There's much more going on here.
From Smallwood:
"In its penetration into our shared lexicon, astrology is a little like psychoanalysis once was. At mid-century, you might have heard talk of id, ego, or superego at a party; now it's common to hear someone explain herself by way of sun, moon, and rising signs."
Astrology, pop psychology, Spotify years in review all hit at the same thing: we all want to be understood. We feel affirmed in our identity when we are understood by others and try our best to explain ourselves to those we encounter.
Astrology offers a language to explain who we are to others who share that language. If I tell you I am an Aries (or share yet another astrology baby yoda meme), I'm not only telling you that I feel the characteristics attributed to Aries resonate with me (aggressive, determined, baby), I'm telling you nuanced information about myself. I believe I am those things. I have written the narrative of my life with these themes. I'm trying hard to get you to affirm those things in me. (And give me a pass for certain behavior that I want a pass on. Remember I'm an aggressive baby.)
"It's a commonplace to say that in uncertain times people crave certainty. But what astrology offers isn't certainty—it's distance. Just as a person may find it easier to accept things about herself when she decides she was born that way…"
Astrology is a language with which we define ourselves. It is not only a phenomena but also a framework for identity. The attributes ascribed to our sign can describe an existing self but often help to constitute a self.
…just like another system of identity articulation filling my instagram with relatable memes…
Calling the Enneagram system a self-help movement is a little bit diminutive, but other than that, Allegra Hobbs untangles the ties that bind a large group of believers to the Enneagram.
Like astrology, the Enneagram provides language and relationship guidelines curated for you. In my peak saturation of the Enneagram, I found myself relying on the narratives given to me by my number rather than examining the reality and my intuition and feelings. It made more sense to me to rely on something outside myself to explain what I should do, what I should focus my energy on, or how to be better. I'd been practicing that exact logic since I was baptized, just swap 'biblical womanhood' with '6's at their best'.
But, for me, there is only so far this can go. I got itchy when I realized I'd returned to a passive way of articulating my identity. It was safe because I know I will be understood by others. But it was uncomfortable because I wasn't sure it allowed for me to change.
What if I find that valuing discipline (a positive trait of 6s) actually causes my anxiety?
What if being loyal has caused immense hurt in the past?
What if I'm not really a 6 at all but now that I've read all the characteristics for a 6 and thought that me I am settled into a personality that was written for me by someone trying to sell their brand of spirituality to me?
It is really encouraging to me that Christian culture is open to ideas that are antithetical to the doctrine of inherent sinfulness. What Sarajane Case describes at the start of this article resonated with me and this quote from the end starts to get at how I feel about it.
"For Case, the explosive growth of Enneagram, and her rise within it, has been a strange experience. As she has carved out her path to self-acceptance free of religion, she has watched this movement within faith she left behind move alongside her to the premise that humans are good at the core and can reclaim that goodness through inner work. It's a jarring departure from the self-effacing faith of her youth."
I don't think describing your identity via the Enneagram or astrology is good or bad. I think people have based their identity on much more destructive and way more empty concepts. (Have you ever talked to a Men's Rights Activist?) But I do think it's interesting that we now have this layer of language specifically aimed at articulating who we are. For so long this articulation took place in status and milestones and job descriptions. (My dad will be called Coach Fowler forever.) Now we have this language that is not tethered to those things.
For as much as it may reduce human experience, it also allows for more flexibility without sacrificing being understood. I think that's the certainty that people find in astrology and the Enneagram: a feeling of being seen and heard.
That's certainly what I find in it.
---
Hate Read
Alright.
First of all, being contrary to the popular opinion is a value neutral. It does not make you smarter than everyone else. It does not make you cool. It does not make you look cute smoking a cigarette. (Sorry was suddenly trying to send a message to my college self.)
Second of all, you're mad that Disney is doing exactly what we expect Disney to do? (Create a global monopoly and take literally all our money via very sweet, fluffy things.) Thank you so so much kind sir for illuminating the ways baby yoda is actually marketing for an evil capitalist company (just as you suspected, we couldn't have gotten there without you).
But you're out here DOING THE EXACT SAME THING.
Let me do some maths for you. Baby yoda = clicks. Ok loads of clicks. We all want to see the next gif so we can send it to our friends with 'it me'.' Therefore anti-baby yoda will also get loads of clicks. (Got my fucking click and I'm pissed! Should I call this section, I Accidentally Clicked and Now You Have To Also?) So you, as a very savvy and typically smart, nuance-allowing writer, decided to capitalize on that via the content economy exploiting what others want for your financial gain. Wild.
There is no ethical consumption in capitalism so stop berating consumers from finding a fucking slice of joy in the world. You're punching down (or trying to) and it ain't a good look.
Pick a target more your size, bro. Like you can hate on that sidekick from Hercules all you want. But leave baby yoda ALONE.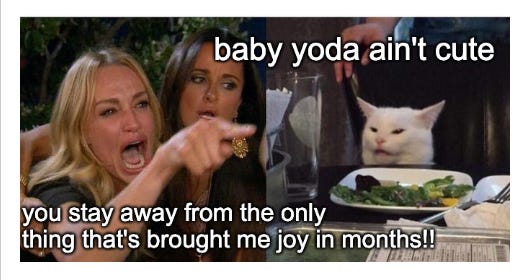 ---
Rec of the Week — its a twofer!
(Isn't the word twofer the nastiest looking word? Like, stop bein' so aggroooo 'f'.)
Dolly Parton's America
If you don't love Dolly Parton after listening to 3.25 seconds of this podcast, you're a monster. (If you don't feel something in episode 2, you can lose my number for real.)
This podcast made me cry so many times, which makes sense because as soon as Dolly speaks in Steel Magnolias I'm cryin. If you've been around me the past 2 weeks, you have heard me prosthelytize about this podcast and Dolly in general. It appears at an amazing cross section close to my heart: pop culture, southern identity, feminism, and glitter.
They also dropped a FUEGO remix of Jolene that is both haunting and hot 100. Please play this at my funeral and hire the hologram people to make the hottest version of me look like I'm playing that guitar riff. In death as she was in life, very good at guitar and smoking hot.
Tomato Soup
As I draft this newsletter, I'm roasting a butt load of tomatoes to make tomato soup. With the first snow of NY fallen and melted, it is very much time for this easy and goddamn delicious recipe from Chrissy Teigen.
I know it seems like a lot when you can just dump a can into a pot and be done, but trust me, it's ~just~ easy enough that you can make it without really thinking about it. Look at me! I'm writing about it while making it!
You can get by without the immersion blender by blending it in batches but I imagine you could also get away without blending it at all. It's that friggen good.
---
Working on a lot of stuff. You could say 9 to 5. whaT A WAY TO MAKE A LIVIN!!! ok ok I'm done. This is the best thing on the internet. Or maybe this. That bitch plays guitar in ACRYLICS. God she is everything.
See you back here tomorrow for some links!!